Agile Mont' Kiara is a high-end residential project that consist of eleven low rise & high rise towers housing 813 units. The latest block available for sale is Tower J which comprised 176 residential units featuring four layout designs, which range from 1,215 sq.ft. to 2,605 sq.ft.
Agile also features an environmental deck with a comprehensive range of recreation and fitness facilities, including a swimming pool, children's water play area, multi-purpose room and a gym for the elderly. The development also boasts a stunning semi open-air Sky Club on the 29th floor, which features the exclusive Sky Suites, Sky Gym, Sky Lounge, Sky Pool and Sky Viewing Deck. These facilities serve as entertainment and gathering lounges with a panoramic view of the vast expanse of greenery and the affluent district below.
Project details
Project name: Agile Mont Kiara
Property type: Condominium
Address: Jalan Duta Kiara, Mont Kiara, Kuala Lumpur
Expected date of completion: 2019 (estimated)
Developer: Agile Property Limited (Agile Property Limited is one of the leading integrated developers in Mainland China, Agile thrives on its core business of integrated residential community development with projects ranging from all over China including regions such as Hong Kong and Macau. They are also actively involved in the construction and operation of hotels, shopping malls, and office buildings all over China. Agile is also listed on the Hong Kong stock exchange.)
Land size: 10.16acres
Tenure: Freehold
Land title: Residential
No. of blocks/storeys: 11 blocks (4 blocks of 44-storey, 2 blocks of 18-storey, 5 blocks of 8-storey)
No of units: 813
No. of car park bay: 2 car park bay per unit
Maintenance fee: RM0.40 per sq. ft.
Location and accessibility
Address: Jalan Duta Kiara, Mont Kiara, Kuala Lumpur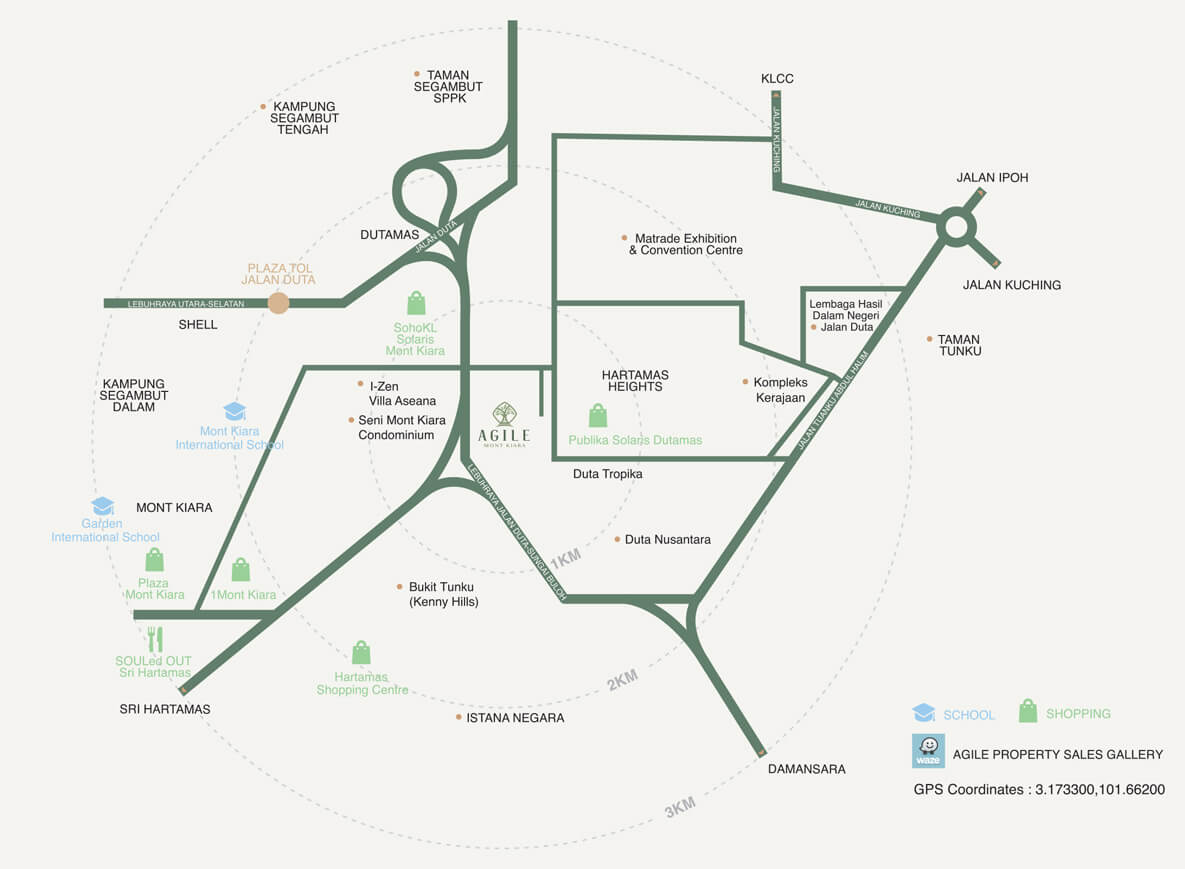 In house facilities and amenities
Environmental Deck
Swimming pool
Jacuzzi
Sky Deck
Spa Pavilion
Gym
Badminton Court
Tennis Court
Nursery
Clinic
Lounges
Playground
Jogging track
Size, Layout, List price

Block: Block J
Number of floors: 43 floors
Number of units: 176 units
Number of units per floor: 4 units
Number of lifts: 3 lifts
Number of car park bay: 2 car park bay per unit
1,215 sq. ft., 3 rooms + 2 baths,
1,377 sq. ft., 3 rooms + 3 baths, 

**RM1.380,000**

1,603 sq. ft., 3 rooms + 3 baths,

**RM1,504,000**

2,065 sq. ft., 4 rooms + 3 baths,

**RM2.052,000**
**List price is before rebate" (Net price upon request)
Promotion Package
(Agile Mont' Kiara)
Low down payment
5% Bumi Discount
Early bird rebate
Early bird freebies
Partly furnished
Free 2 car park bay
Booking fee: RM10,000