SkyLuxe On The Park, Bukit Jalil is an exclusive serviced apartment with Semi-D sky-living residential concept. Low density, the development comprises two towers of 43 and 44 storeys with 477 units of various designs and built-ups ranging from 661 sq ft to 1,224 sq ft.
SkyLuxe is located on prime freehold land fronting the 80-acre Bukit Jalil Recreational Park  and surrounded by the idyllic panoramas of the 165-acre Bukit Jalil Golf & Country Resort.
There are a few types of layout from 1 to 3 bedrooms and 1 to 2 bathrooms. Some units are with balcony.
Unit price starts from around RM550,000 after discount.
Project details
Project name: SkyLuxe on The Park
Property type: Serviced Apartment
Address: Jalan Jalil Perkasa 5, Bukit Jalil, 57000, Kuala Lumpur (GPS Coordinates: 3'03'12.7"N 101'40'34.0"E)
Expected date of completion: 2020 Quarter 1 (estimated)
Developer:

SkyLuxe Development Sdn Bhd (a fully-owned subsidiary of Skyworld Group).

Land area: 1.85 acres
Tenure: Freehold
Land title: Commercial
Number of blocks: 2 towers
Number of storeys: Tower B ─ 43 | Tower A ─ 44 storeys
Total units:  477 units (Tower A: 225 | Tower B: 252)
Built-up: From 661 sq. ft. to 1,224 sq. ft.
Number of units per floor: 7 to 8 (depending on which block)
Number of  lifts per floor: 4
Bedroom(s): 1 to 3
Bathroom(s): 1 to 2
Maintenance fee: RM0.35 per sq. ft.
Car park levels: Ground to Level 8
Facilities podium: Levels 9 and 10 (24 types of facilities, inclusive of Sky Garden at Levels 24 on Block B and 25 on Block A and Roof Top Sky Terrace on each block
Serviced Apartment:  Level 11 to Level 44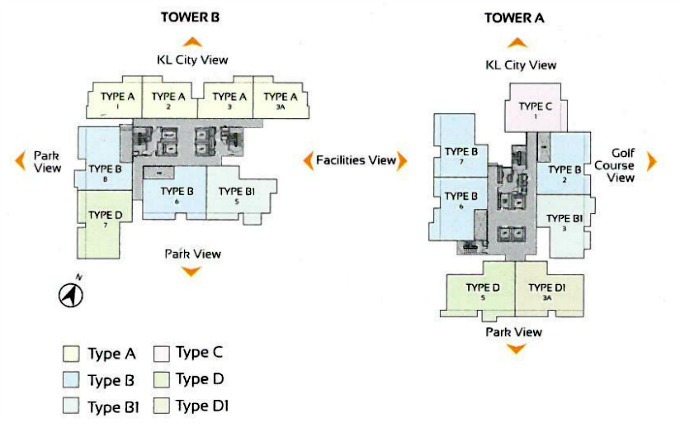 Location and accessibility
Address: Jalan Jalil Perkasa 5, Bukit Jalil, 57000, Kuala Lumpur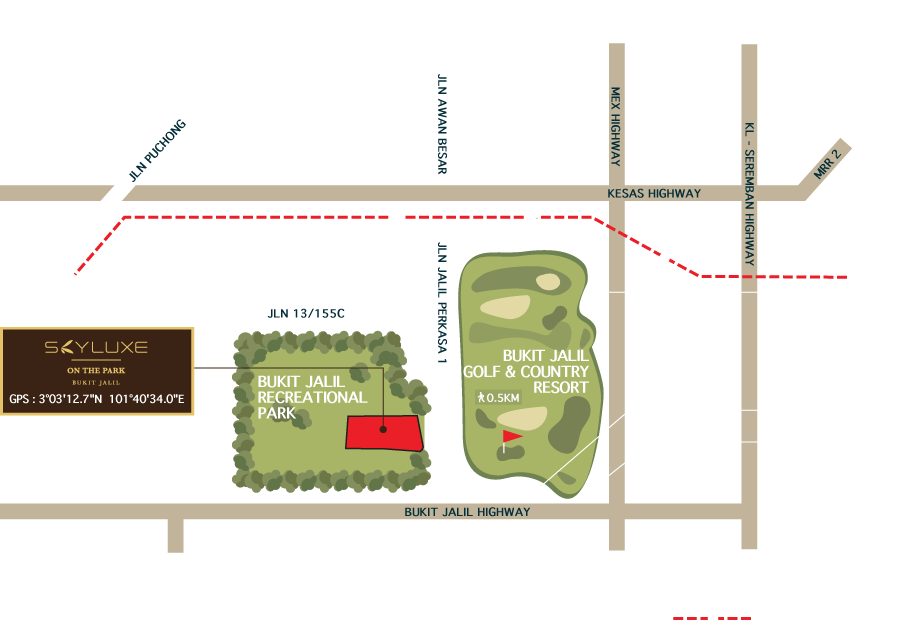 In house facilities and amenities
Sky Terrace
Sky Garden
Infinity Pool
Wading Pool
Floating Gym
Jacuzzi
Pool Deck
Sculpture Pavilion
Floating Cocoon
Size, Unit Layout,
List Price
Type A  661 sq. ft -727 sq. ft., 1+1 room + 1 bathroom (larger unit is with balcony).

**RM609,000**

Type B 1,011 sq. ft. ─ 1,083 sq. ft., 3 rooms + 2 bathrooms + 2 balconies depending.

**RM840,000**

Type B1 1,024 sq. ft. ─ 1,087 sq. ft., 2+1 rooms + 2 bathrooms + 2 balconies depending
Type C 905 sq. ft. ─ 978 sq. ft.,  2+1 rooms + 2 bathrooms + 1 balcony depending
Type D 1,140 sq. ft. ─ 1,205 sq. ft.,  3 rooms + 2 bathrooms + 2 balconies depending.

**RM942,000**

Type D1 1,130 sq. ft. ─ 1,224 sq. ft. : 3 rooms + 2 bathrooms + 2 balconies
**List price: RM6xx,xxx+ to RM9xx,xxx before discount** (Request Net price)
https://youtu.be/_h5fftL7xxA
Promotion Package
(SkyLuxe On The Park)
Booking fee: RM15,000
Low down payment
Bumi discount: 5%
Early bird discount
Early bird freebies
Part Furnished
Free 1-2 car park bay